Published originally by Intercontinental Hotels & Resorts
Oysters, it's often said, are an acquired taste. But judging by the crowds around oyster bars at posh weekend brunches and seafood restaurants in the UAE, that might be hard to believe. In the country where the harsh desert climate means that most of its food is imported, edible oysters traditionally come from as far as France, New Zealand, Ireland and Canada. Now, thanks to the vision of Ramie Murray, the Scottish Managing Director of East Coast Shellfish and founder of Dibba Bay Farm, that is changing.
"There's a glamorous aspect to eating oysters but not many people realize that oyster farming, on the other hand, is sort of rough if you're doing it in the open ocean," says Ramie at his onshore oyster processing facility at Dibba Port, where his staff meticulously cleans, culls and grades oysters on a windy morning.
"I've always been an entrepreneur," he says, "When I was working in renewable energy in Oman, I realized just how unexploited the coastline was extending all the way here to Fujairah. That was surprising because it's very clean and calm water, perfect for something like this. I always had an eye on aquaculture, coming from Scotland, where salmon farming is a big part of the economy."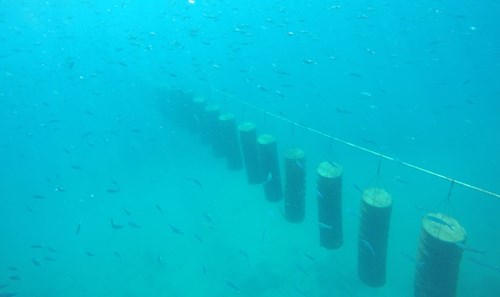 After a successful pilot study with the Pacific cupped oyster in Oman, he decided to return to the UAE and set up an oyster farm in Fujairah, where the waters of the Arabian Sea in the Gulf of Oman were lower both in temperature and salinity than those on the western coast.
It takes relentless determination and patience to be the first at anything; the risk of failure runs high and the outcome is never guaranteed. But Murray likes to dwell neither on his achievements nor the roadblocks he encountered. "It was simply seeing an opportunity in something that I wanted to do. I explored it and it looked very viable, so I went for it," he says matter-of-factly.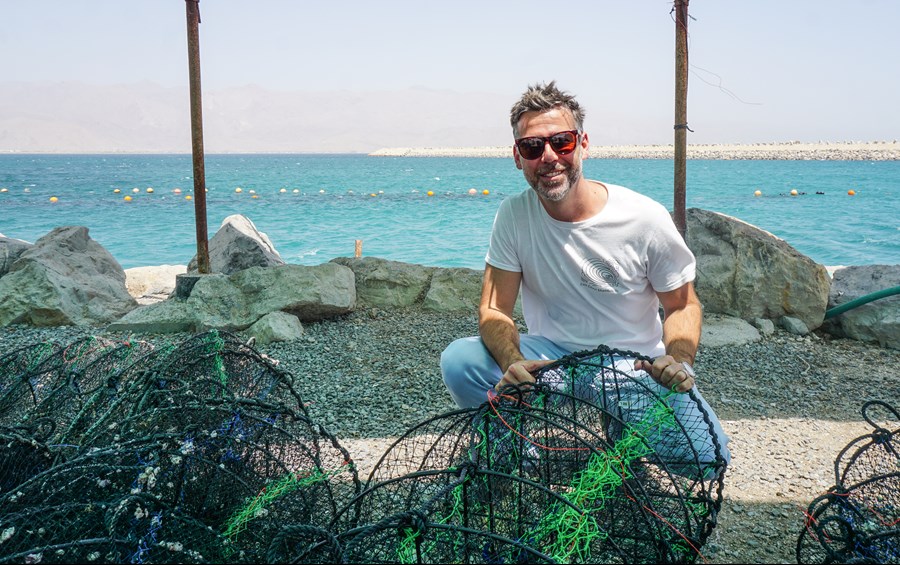 The authorities in Fujairah were supportive and the farm was awarded its offshore site in 2016, but Ramie Murray had his fair share of skeptics. "For sure, people were amazed because the temperatures are quite high and they were used to cold water oysters. But this popular Asian species of oyster, also farmed in France and Alaska, is highly adaptable. I just pointed to Alaska and asked why are you not equally amazed that you can do it there?"
In fact, the warmer temperatures mean that the oysters, housed in caged baskets suspended below the surface of the water, grow at an accelerated rate year round, within eight to nine months versus two years in cooler climates. His farm can harvest continually around the year unlike those in Europe where the oysters go into their breeding cycle when the temperature of the water rises, "We don't have that issue here because our oysters don't go into a breeding cycle."
"Oysters, because they're filter feeders, take on the characteristics of their surroundings and also different qualities depending on how you treat them," Murray explains. An oyster harvested in a river estuary takes on significantly different characteristics from one harvested in the wider sea, not only due to the difference in salinity, but also factors such as currents and the chemical composition of the water. The high calcite content in the waters of Dibba causes the oysters to become an opaque, vibrant white color. "That is not because we sing to them or something," he jokes. The clean nutrient-rich waters along the Fujairah coast result in high-quality oysters that are meaty and have a briny aftertaste.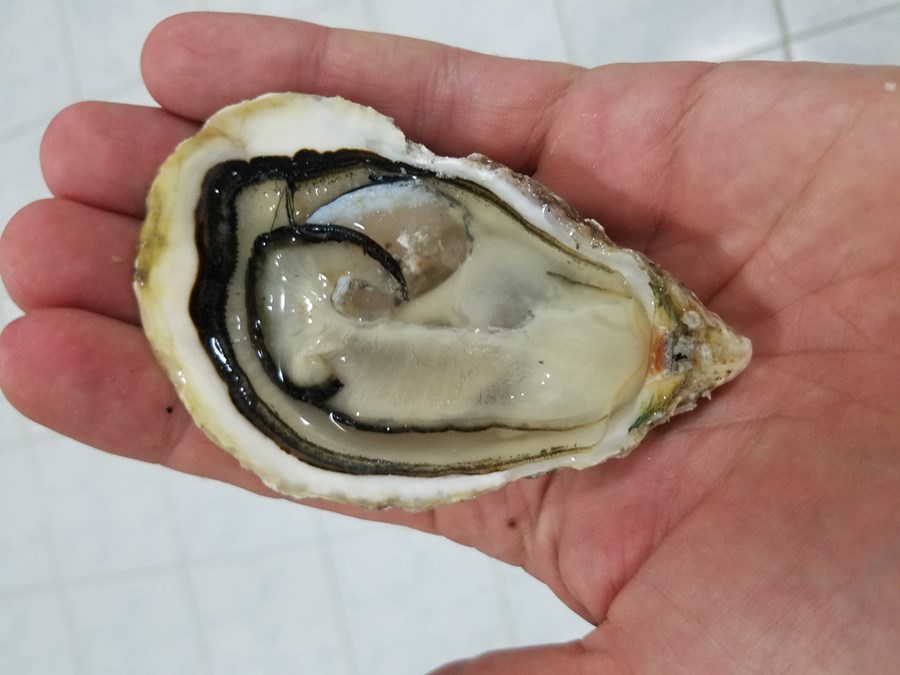 For Ramie Murray, oyster farming is a labor of love and he is passionate about harvesting a quality product. Thanks to accelerated growth and a little creativity, Dibba Bay oysters have a deep cup with a meat content that is higher than European oysters. "We tumble our oysters," he explains pointing to a mesh cylindrical roller, "Which is a process basically just knocking them together, chipping the edge of the shell. If you bang them together and change the angle, you get a much higher meat content and a nicer shape instead of a long, narrow and shallow one."
Oysters are also known to benefit the environment, each oyster filters between 30-50 gallons of seawater every day. The lantern-like baskets that hang suspended below the surface act like a floating reef and attract schools of baby fish, encouraging sea life in the area.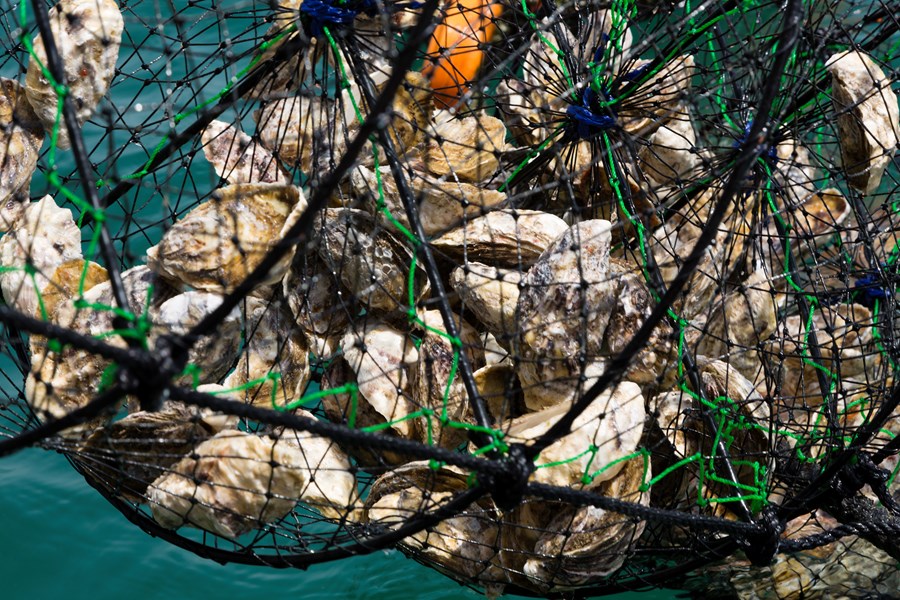 Thanks to their short journey from the ocean to local markets and restaurants in Dubai, where the bulk of his market lies, just a ninety minute drive from Fujairah, Dibba Bay oysters are highly sought after, especially by chefs who believe in the appeal of farm-to-table and sustainable local produce. "Once people tasted them, they realized that this wasn't a one-off and we could supply this high-quality product regularly," he says.
After all, even foreign imports cannot beat the freshness of these oysters that are harvested in the morning at the farm and are delivered to restaurants by afternoon. These homegrown oysters, endorsed by celebrity and Michelin-starred chefs, are available at seafood restaurants such as Sean Connolly at Dubai Opera, Boca, and Galvin Dubai among many others.
The demand for Dibba Bay Oysters is only growing. His farm hopes to ramp up the current production of 20,000 oysters a month by three times, by the end of the summer. There are also plans to export within the Middle East and beyond. "We've got this unique situation where we've got this beautiful pristine marine environment and a highway linking us to Dubai Cargo Village, one of the largest cargo and air hubs in the world. I don't think any other oyster farm in the world has that," he says. That and the optimism of an especially passionate, determined Scotsman.