Sure to become a firm family favorite, these buttery, spicy oysters are perfect for iftar and beyond.
Prep time: 20 minutes, plus 15 minutes cooling time
Cook time: 1 hour 10 minutes
Serves: 2
Ingredients:
1 bulb of garlic
1 tbsp olive oil
100g crème fraiche
100ml white vinegar
50g sugar
½ red onion, peeled and finely sliced
50g unsalted butter, at room temperature
1 tbsp Arabic 7 spice
6 Dibba Bay oysters
Chopped parsley, to serve
Micro cress, to serve
Recipe:
1 Preheat the oven to 180°c.
2 Halve the garlic through the belly and drizzle the cloves with olive oil. Wrap with foil and place onto a baking tray. Bake for 1 hour or until the cloves are completely soft. Allow to cool, remove the skin and whisk into the crème fraiche until smooth.
3 Pour the vinegar and sugar into a small saucepan and bring to a gentle simmer. Once the sugar has dissolved, add the red onion and allow it to cool completely.
4 Whisk together the butter and Arabic 7 spice.
5 Shuck oysters and place onto a baking tray using a mound of salt to keep them upright if needed.
6 Top each oyster with a tablespoon of 7 spice butter. Place into the oven for 5-7 minutes, until the butter is melted and bubbling.
7 Top the oysters with the pickled red onion, chopped parsley and micro cress before serving alongside the roasted garlic crème fraiche.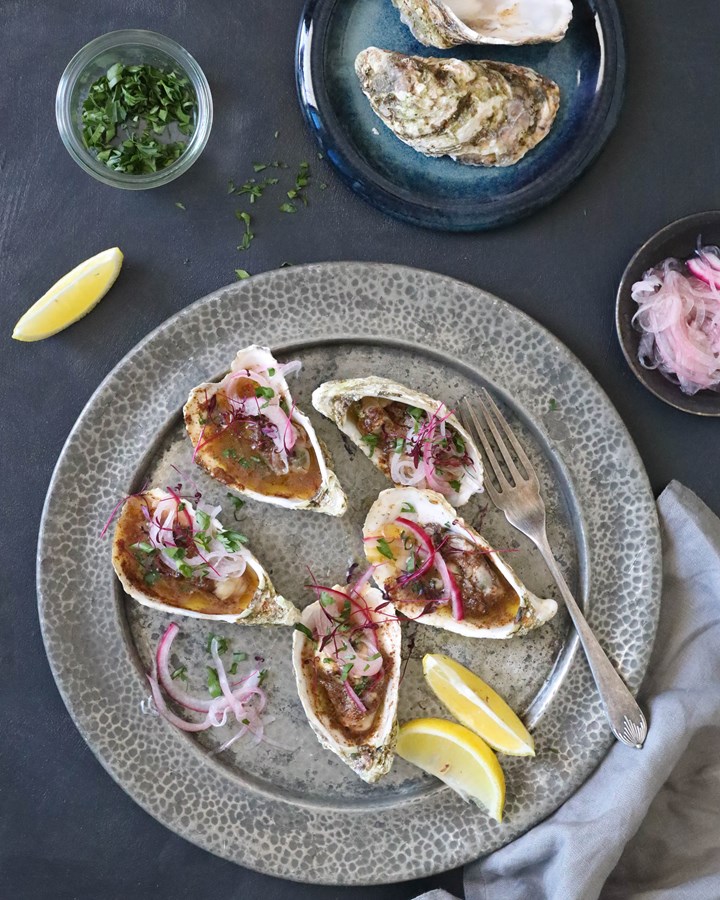 Click here to get fresh oysters delivered to your doorstep!