The second edition of the Dibba Bay Oyster Festival is landing in the UAE from February 24th to March 5th where you can enjoy all things oyster, and it will culminate in the Ultimate Shuck Show on March 4th & 5th (and you're invited!)
This 2-day event is FREE to enter and is destined to be a foodie frenzy; even for those who don't fancy the taste of the beloved bivalves. Checkout the full program.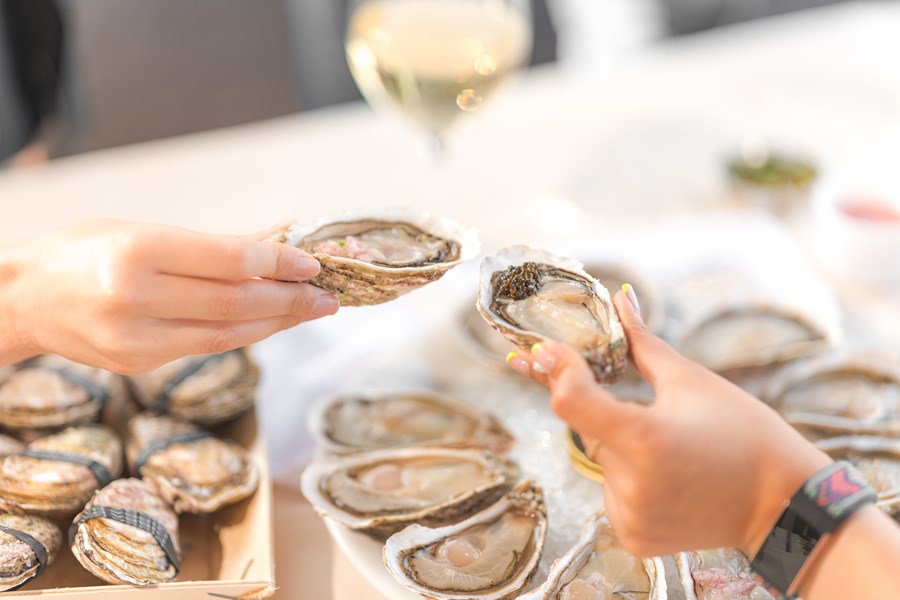 On Saturday March 4th you can watch chefs battle it out for the title of UAE's shucking champion. With Swiss watchmaker Breitling as the Official Timekeeper every second will count as chefs from across the country compete for the title. This year, Patrick McMurray who is a World Shucking Champion and Guinness world record holder for opening 39 oysters in one minute, will be part of the judging panel. This you're going to love - shucked oysters from each heat will be passed around to audience members after judging!
Think you've got what it takes to compete? This year we are also hosting an amateur shucking competition on Sunday March 5th for oyster aficionados to sign up, but first ask yourself how many oysters you can open in one minute! Register now and join the fun with some great prizes to be won.
To take your shot, sign up to compete by registering here. Rules below:
1. Each contestant receives a shucking kit and oysters. Contestants may bring their own protective gear.
2. At the signal of the MC, the timekeeper will start the stopwatch.
3. Contestants must aim to open a maximum number of oysters in one minute.
4. Timekeeper will stop the time once a minute is complete. All contestants must put down their knives and step away from the table immediately.
5. Top and bottom shells must be fully separated
6. Oysters must be placed on the table, if dropped on floor they are not counted.
7. Judges will inspect the oysters before confirming the winner.
8. Contestant who opens the maximum oysters in a minute, wins the competition.
The event will involve your favourite foodie pop ups offering exclusive menus, with the likes of Pickl, Mattar, Tanos at 8, Moreish by K, Canvas Gelato and many more serving their fan favourites and special oyster creations. Local producers such as Emirates Bio Farm, Below Farm, and Italian Dairy Products will also be present, showcasing the best of the UAE's home grown produce. The culinary students from the Emirates Academy of Hospitality Management will be participating with their original concepts too. Don't miss the beverage stands on offer highlighting the perfect alcoholic and non- alcoholic oyster pairings.
The event program will involve talks and masterclasses you can sign up for such as oyster shucking masterclasses, oyster pairing sessions guided by The Tasting Class or an oyster tasting sensory experience guided by a world-renowned oyster sommelier.
Here are some more details on the masterclasses that you can book.
Oyster Pairing Masterclass – March 4th & 5th
Join the expert sommeliers from The Tasting Class  for a masterclass where they will teach you the ins & outs of pairing oysters with wines and other drinks. You will get to explore the key tasting notes of oysters that should be considered when creating a winning pairing & how different toppings & cooking methods interact with a range of drinks.  
How to Savour Oysters – A Sensory Workshop - March 4th
Learn how to evaluate and taste oysters like a pro with International Oyster Sommelier Julie Qiu. In this interactive workshop, you will gain foundational knowledge about the different types of oysters and what impacts their flavour and texture. You'll also have an opportunity to taste and evaluate three oyster varieties side-by-side.
How to Shuck 101 – March 4th           
Learn how to open your own oysters by a world oyster shucking champion; Patrick McMurray. Patrick also holds three Guinness Book Records for shucking oysters, 39 in one minute! This is a free workshop!
He will be MCing the shucking competition on March 4th- don't miss this guy in action
Champagne Masterclass- March 4th & 5th
What's an oyster event without its perfect pairing? Mumm Champagne will be guiding an experience of champagne tasting taking you through the different champagne varieties.
The Dibba Bay Shuck Off
March 4th ,12:00pm to 10:00 pm
March 5th, 12:00pm to 8:00 pm
The Emirates Academy of Hospitality Management
Free to attend, full program here
Limited parking spots! Get there early or book a ride with Careem.